Solatube® Daylighting Systems Certified Installers Serving SC & NC
Solatube® flashings make it easy to install daylighting systems on any type of roof, including metal, shingles, tile, and more.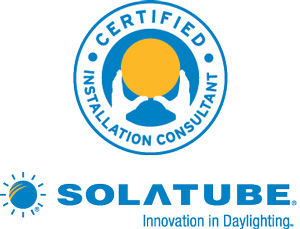 Why choose our daylighting systems?
More natural light.
Leak-proof design.
Quick, easy installation.
Alternative to skylights.
No need for structural changes.
Reduced energy use.
At Carolina Energy Conservation, our focus is to provide our customers with quality, cost-effective solutions to improve the comfort and energy efficiency of their homes. That's why we use Solatube® Daylighting Systems. These tubular daylighting devices, or TDDs, bring natural light into interior spaces where traditional skylights and windows can't reach.
More homeowners choose TDDs (sometimes referred to as "tubular skylights," "light tubes," or "light tunnels") as an energy-efficient, eco-friendly way to light their homes. Solatube® light tubes significantly reduce the need for electricity. Installations can usually be completed in about two hours with no need for structural changes - making Solatube® lighting systems the fastest and simplest solution to a brighter, more beautiful home.
Contact the energy experts at Carolina Energy Conservation today to meet with one of our lighting specialists in Charleston, Myrtle Beach, Sumter and nearby.
Before and After
Before

After

This customer recently purchased a new home in Aynor and noticed that, like many of the newly built homes in the area, the living space was directly in the center of the building and did not have much natural light to fill the space.

After some research, she found that Solatubes would be the best fit for her home. She called up the only local authorized Solatube dealer, and Carolina Energy Conservation installed two 14'' tubes in her livingroom and kitchen!

Check out the difference!

Before

After

This kitchen was too dark for the couple who lives in Little River, even with the lights on, so they called Carolina Energy Conservation to come in and install a Solatube to help make their days just a little bit brighter! Now they can reduce the amount of harsh lighting in their kitchen and enjoy the beauty of natural daylighting.

Before

After

This Conway, SC homeowner had a beautiful living room - but no one could see it! The room lacked in the lighting department. They called Carolina Energy Conservation to help restore the electrical in their living space.

We installed two 14-inch ISn Solatube lights in the ceiling to brighten the room. The finish is "Just Frost," giving the room a clean and contemporary finish.

Before

After

This customer wanted to see more daylight in their home. A Solatube was installed in the living room and provides light to both their living area and kitchen.

Before

After

Even in a room with glass doors and large windows, it is still difficult to get natural daylight inside a room. This homeowner wanted to be able to use natural light in their living area rather than artificial lighting via lamps and overhead lights. A Solatube was installed in the right corner of the room and allows that natural daylight to shine into the room, keeping it bright and lively.
Let the sun shine in. Daylighting systems make it possible to have natural light wherever you need it.
What makes light tubes a smarter lighting solution?
Solatube® Daylighting Systems are the superior choice because they are the only high-performance daylighting devices that utilize patented optical technologies to significantly improve the way daylight is captured and delivered to interiors.
Mistakenly called "solar tubes," these daylighting devices are modular and easy to connect to ceiling systems. Unlike traditional skylights, they are designed to reduce glare and inconsistent light patterns. They also help protect against infrared rays that can overheat interiors as well as ultraviolet rays that can fade furniture and fabrics.
How do Solatube® tubular daylighting devices work?
Solatube®'s Daylighting Systems capture sunlight using a rooftop dome, then transfer it indoors through a reflective tube that runs from the roof to the ceiling. From there, the light is evenly dispersed into the interior space using a diffuser.
Solatube® products utilize advanced optical devices such as Raybender® 3000 Technology and Spectralight® Infinity, a revolutionary reflective tubing material that transfers more daylight than any other currently used in the industry.
Our Solatube® products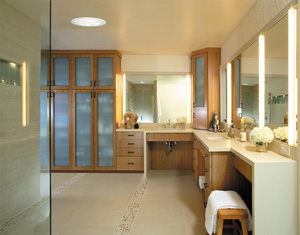 Light where you need it. Solatube lighting systems can make any room in your home brighter, without sacrificing comfort and efficiency.
Solatube® 160 ISn, 290 ISn, 160 DS and 290 DS Daylighting Systems
The Solatube® 160 ISn, 290 ISn, 160 DS and 290 DS Daylighting Systems feature the patented Raybender® 3000 Technology and LightTracker™ Reflector. These light tubes are a great energy-efficient lighting solution for bathrooms, hallways, kitchens, dining rooms, closets, home offices, and living rooms. The 160 ISn and 290 ISn systems qualify for a 30% federal tax credit on purchases and installations. Learn more about our Solatube Daylighting products.
SmartLED
The Solatube® Smart LED system is a state-of-the-art home lighting solution that has the potential to reduce your energy use by 94%. The Smart LED System uses SunSense Technology, a patented control center, to continually assess daylight levels and automatically turn on LED lights when levels are low. When daylight levels are high, the LEDs turn themselves off. You will always have the perfect amount of light in your home!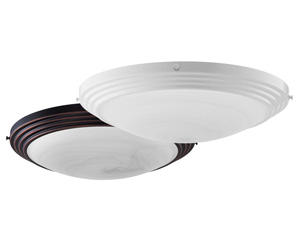 Beauty and efficiency. Carolina Energy Conservation installs decorative fixtures from Solatube to fit every home's style.
Flashings
Solatube® flashings are available for nearly all roof types (including membrane, gravel, shingle, metal, slate, tile) and allow for fast and easy installation of lighting solutions. The flashings provide complete protection and are designed as a single, seamless piece to ensure leak-proof performance.
Decorative lighting
The experts at Carolina Energy Conservation can help stylishly brighten your home. Decorative fixtures by Solatube® can enhance the look of any interior space, while providing energy efficiency. Additionally, effect lenses can be added to allow you choose the specific light color and intensity.
Free solar nightlight included with Daylighting systems
Each of our Solatube Daylighting systems comes with an integrated solar electric nightlight. Our built-in solar powered nightlight is professionally installed in under two hours, requires no structural modifications and comes with a 10-year manufacturers warranty. Once your solar electric nightlight is installed with your entire system, you can qualify for a 25% tax credit in South Carolina and a 30% tax credit federally. We provide professional installations in Savannah and Pooler, Georgia as well as in Calabash and Sunset Beach, North Carolina.
Choose a trusted contractor for quality lighting solutions. A Solatube® Daylighting System installed by Carolina Energy Conservation is a superior way to bring natural light into any space, without the cost, hassle and leaks associated with traditional skylights. Call us or contact us online to schedule a consultation and free lighting quote today! We install light tubes in Myrtle Beach, Charleston, Sumter, Florence, Bluffton, North Charleston, Mount Pleasant, Beaufort, Goose Creek, Darlington and throughout the Eastern SC area.
Looking for a price? Get a no cost, no obligation free estimate.